2. Skilled-Independent visa (subclass 189)
Those who do not have a sponsor can apply through the points-based system for a skilled independent visa. If their occupation exists in the 189 occupation list (MLTSSL) they can apply an expression of interest and hence get an invitation to apply for the visa.
3. Skilled Nominated visa (subclass 190)
With this visa, the immigrants can live and work in Australia as a permanent resident. The eligibility for this visa is based on the Australia PR point system. They must have their occupation in the 190 occupation list and a nomination from Australian state or territory government. Hence, they can submit an expression of interest.
4. Graduate Temporary Visa (Subclass 485)
This type of visa is meant for the students who have gained education from the Australian educational institutions. They must have studied for at least 2 years in Australia. Then they can apply for this visa and gain a work permit for the duration between 18 months and 4 years.
5. Skilled Regional Visa (Subclass 887)
This visa allows the applicants to gain a full permanent residence in Australia. It is not based on the Australia migration points system but requires the applicant to hold either of the provisional Skilled – Independent Regional Visa (subclass 495) or provisional Skilled – Designated Area – Sponsored Visa (subclass 496).
What is Nominated Occupation?
Depending upon the type of visa you are applying for, you have to nominate your occupation. SkillSelect provided two occupation lists – Skilled Occupations List (SOL) and the Consolidated Sponsored Occupations List (CSOL). The applicants for the Skilled Regional (Subclass 887) Visa, Skilled Independent Visa (subclass 189) and Graduate Temporary (Subclass 485) Visa have to nominate an occupation listed in SOL. The applicants for Temporary Work (Skilled) visa (subclass 457), Skilled – Nominated or Sponsored Provisional (Subclass 489) Visa and Skilled – Nominated (subclass 190) Visa have to nominate an occupation listed in CSOL.
Points based Immigration in Australia
Now let us further look at the various criteria of the immigration points calculator system of SkillSelect. The applicants are required to score in totality at least 65 points to attain their visa in the following categories:
1. Age
Based on the age of the applicant they are provided with certain points. The age group 18 – 24 receives the maximum points while the age group from 45 – 49 receives no points.  Consider the table given below for further age groups: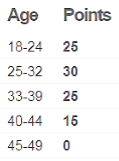 2. English language proficiency
Australia points calculator system also awards points to applicants based on their English speaking, listening, reading and writing skills. The applicants are required to appear for the IELTS (International English Language Testing System) in order to showcase their extraordinary English language skills.

3. Skilled employment
 Depending upon work experience of the applicant the occupation that they have chosen from the skilled occupation list, the applicants are awarded certain points. The applicants are given separate points based on their work experience gained in Australia and somewhere else. They must score at least 20 points in this section.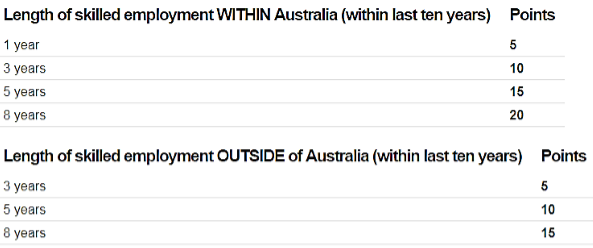 4. Educational qualifications
 The qualifications of the applicants must be in relation to the occupation that they have nominated. It must also be in accordance with the Australian qualification standards. Then, depending upon the highest qualification of the applicants they are awarded certain points. For instance, for those having a bachelors and a post-graduate degree will be awarded points for their postgraduate qualification.

5. Australian qualifications
 The Australian qualifications also play a role in Australian immigration points calculator. For those who have studied for at least 2 years in Australia and gained a qualification from an Australian institution are awarded 5 points.

6. Regional study
Applicants who gained an educational qualification from Australia (at least 2 years of education) and had lived in regional Australia or a low population growth metropolitan area during their course of study are awarded 5 extra points in the Australia visa points calculator system.

7. Community language skills
 Australia's National Accreditation Authority for Translators and Interpreters (NAATI) recognizes the community language skills of applicants. If an applicant has an exceptional interpreter level or translational skills in any of the community languages of Australia then they are awarded 5 points.

8. Spouse/partner skills and qualifications
If the applicant has also included their spouse or partner in their visa application then they can gain points based on the skills and qualifications of their spouse or partner; provided that they are not a citizen or resident of Australia. in such a case, the spouse or partner of the applicant must also fulfil the requirements of Age, nominated occupation and English language proficiency mentioned above.

9. Professional year
A professional year is a professional development program that comprises of on the job experience and formal training. It can be used to gain more points required for Australian PR. If the applicant has completed a professional year in Australia in the past 4 years of time then they are awarded points for that. However, the applicant must have completed their professional year in the occupation that they have nominated or occupation that is closely related to it.

10. Nominations and sponsorship (Subclasses 190 and 489 only)
 The nominations can award you some extra points according to the Australia visa points calculator system. If the applicant gains a sponsorship from the Australian territory or state government then they are awarded certain points. However, this criterion is only valid for Skilled-Regional (Provisional) visa (subclass 489) and Skilled Nominated visa (subclass 190).